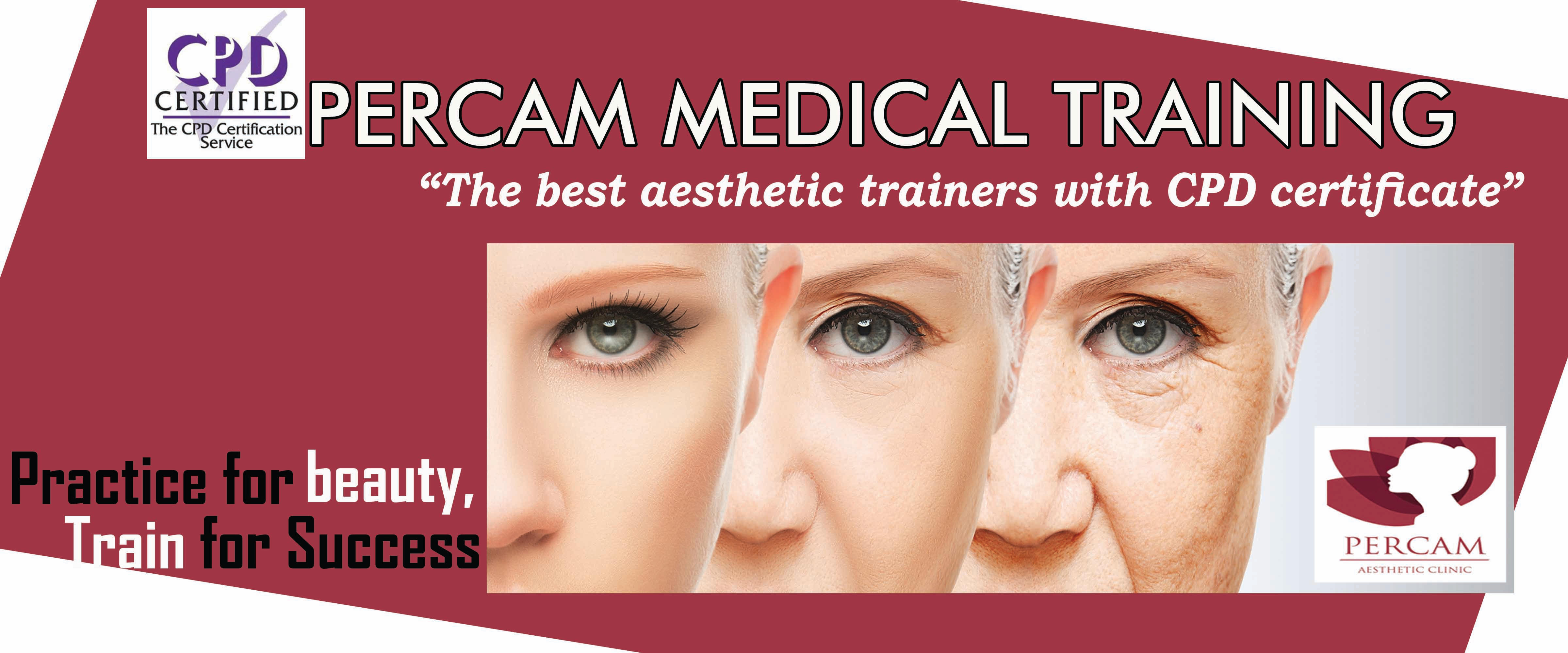 Get in touch with us today 0203 1295 981
                                               0775 4622 022
                                               0127 3386 011
FOR THE SERIOUS PRACTITIONERS
WHO WISH TO REDEFINE THEIR
CAREER IN AESTHETICS.
WELCOME to Percam Medical Training
Percam Medical Training offers you different kinds of Aesthetic courses such as Dermal Fillers, Botulinum Toxin (botox), Lips Enhancement and Non Surgical Rhinoplasty or Nose re-shaping. Our courses are designed to satisfy the latest guidelines for Aesthetic Medicine. We recommend regular Foundation, Advanced and Combined Courses in around United Kingdom and Europe. Doctors and Nurses looking to start practising in Aesthetic Field. We will equip you with the knowledge and skills to follow through the most frequently requested cosmetic injectable procedures confidently upon completion of your training. At our London, Sussex and Europe ,we will guide you on your journey from beginner, to advanced to expert level through our level up  roadway industry in aesthetic. We are responsible for helping to improve quality and care in the domain of facial aesthetics in which we center our attention on professional training of learners. Accomplishing all of our courses will teach you all  popular Non Surgical Rhinoplasty, Anti-Wrinkle and Dermal Filler cosmetic injectable procedures.We help Doctors and Nurses in aesthetic field practising immediately after course and we also support you for insurance cover and buying the products from accredited pharmacy.
Percam Medical Training not only educate you, but we focus to provide the most comprehensive and exclusive services to its learners. We wish to improve you in  this successful and prosperous market of non-surgical beauty movement. In our way of thingking, giving absolute services to the trainee is a long running and commercially successful process for both parties. Therefore, without exception we try to provide the best services attainable to learners. The primary idea was to engage a lot of individuals working in the domain of aesthetic medicine. To reach our purpose, Percam Medical Training started its mission in the domain of non-surgical beauty movements such as Botox injection, filler, Lip Enhancement and Nose Rhinoplasty or Nose Re-shaping and also you can receive a CPD certified certificate upon completion of any course you have enrolled.

FAQ AND COURSE INFORMATION
What Can I Learn in Aesthetic Courses?
Aesthetics courses teach you how to analyze and treat your clients' skin with the goal of enhancing beauty and health. It will help you understand how to market and grow your aesthetic practice. Joining Aesthetic courses will give you an additional skill set beneficial toward capitalizing on this growing market. With the demand of these treatments high and increase, now is the best time to learn an go for a training.
Why Train in Percam Medical Clinic?
Here at Percam Aesthetic Training, our mission is to help empower and liberate physicians to become financially independent and successful in aesthetics field! We offer you an extensive learning system, filled with a range and diversity of support in the services such as Dermal Filler, Nose Re-shaping or Non Surgical Rhinoplasty, Botulinum Toxin and Lip Enhancement , an emphasis on real hands-on training with focus on safe injection techniques and avoiding complications. Percam Aesthetic Training was created to give high yield, practical content to you in this exponentially growing aesthetic industry.